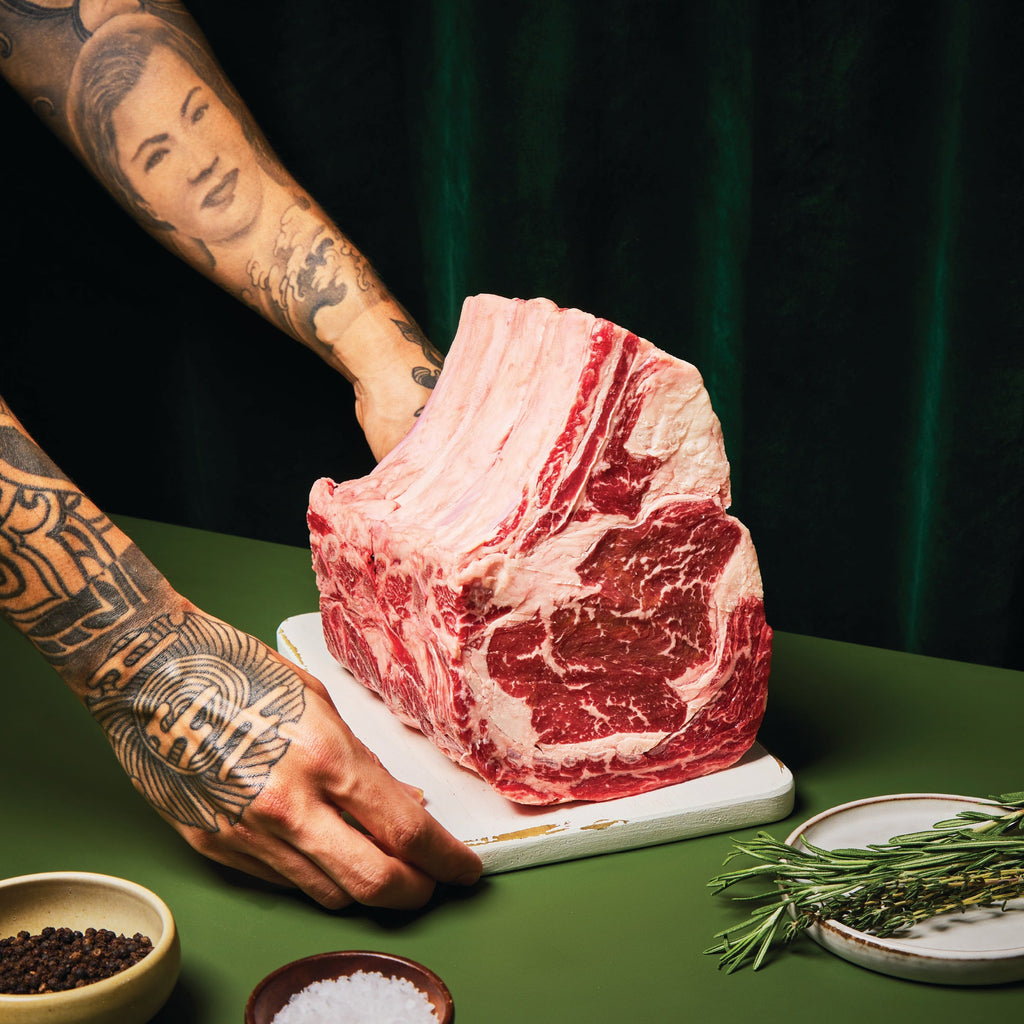 NEXT
PREV
Zoom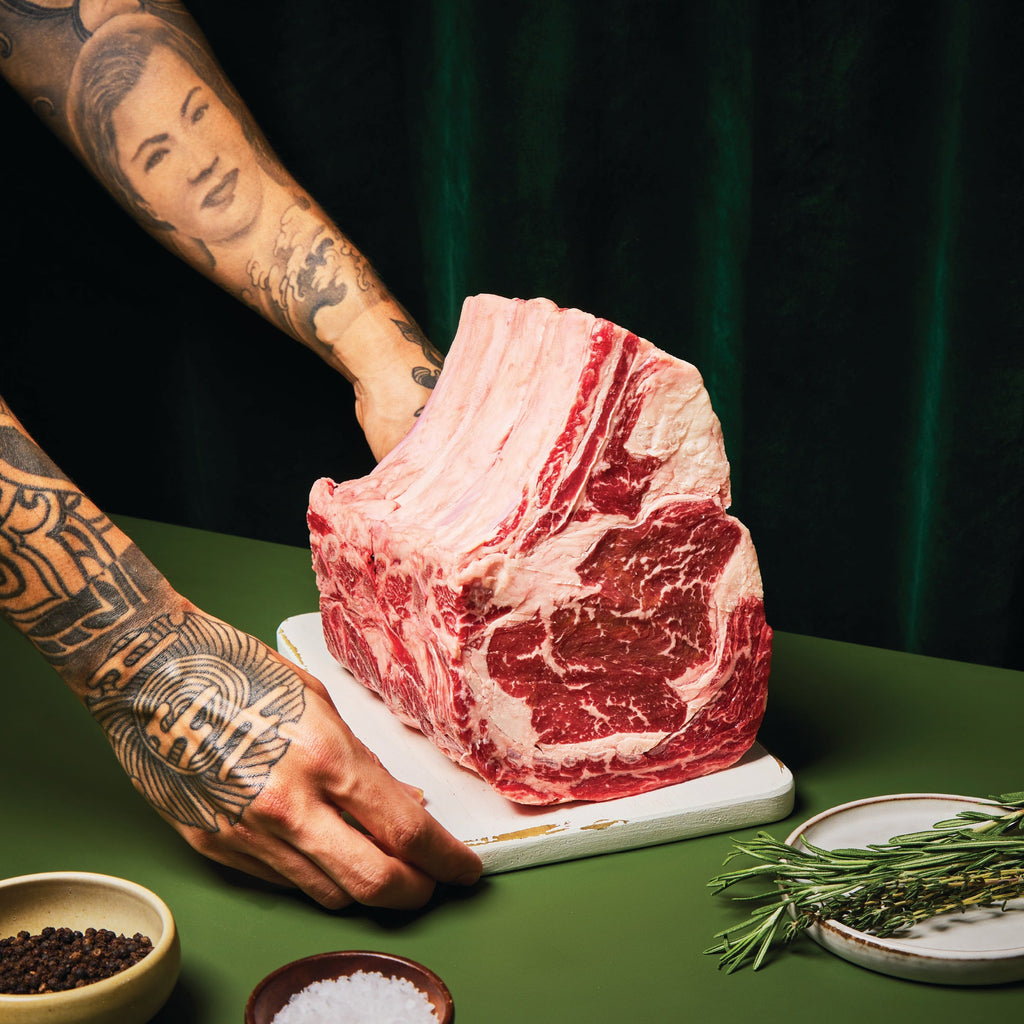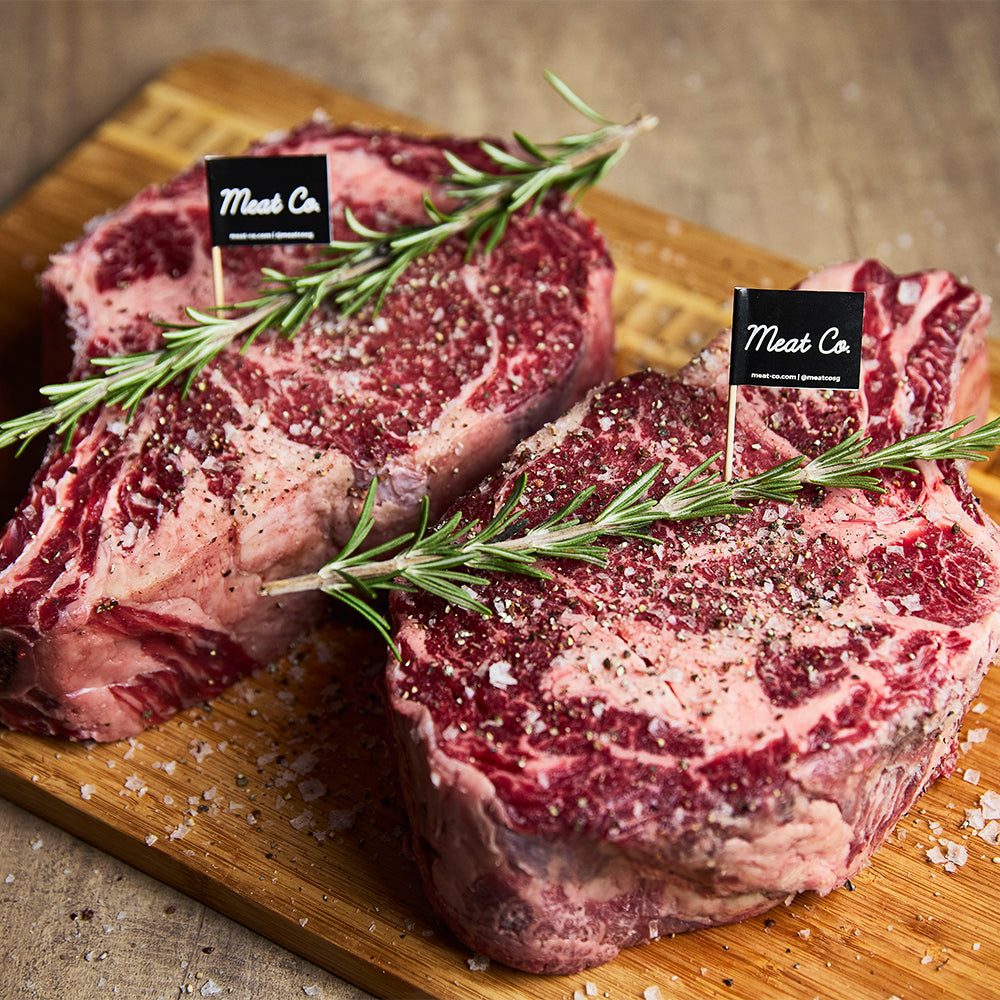 USDA Choice Prime Rib Roast
Delivery Notice
We deliver island-wide 𝗙𝗥𝗘𝗘 𝗳𝗼𝗿 𝗮 𝗺𝗶𝗻𝗶𝗺𝘂𝗺 𝗼𝗿𝗱𝗲𝗿 𝗼𝗳 $𝟴𝟬.
For orders below $80, a delivery charge of $12 applies islandwide
A well cooked standing rib roast is a masterful center-piece for the festive celebrations.
Imagine an end to end pink with meat so juicy and silky smooth, chock full of beefy goodness. Yes preparation can take hours and a large joint is so very expensive that we seldom make the effort to cook a Standing Rib Roast outside the festive season.

Here at Meat Co. we hope to simplify the process and delight you and your guests this Christmas!
A Prime Rib Roast is a cut found between the Chuck and the loin, arguably one of the most prized cuts of meat. However not all Rib Roasts are created equal! There are 7ribs on a rib roast, with the best marbling coming from the first 5ribs found closer to the chuck. Since roasting the whole 7ribs will outsize most ovens, we decided to serve you only the first 5 ribs. Yes... your Christmas feasts deserves only the best!
Now that you've got your hands on the finest cuts, a Prime Rib Roast is made with lots of patience and care. Here's how to get started!
1. Pat the whole chunk of meat down with a paper towel and sit the rib roast on a perforated rack, allowing it to sit uncovered for 12-24hours in the chiller. This process wicks moisture off the surface of the roast. Allowing the joint to caramelise and crisp up in the next steps.
2. Bring the Roast to room temperature (tempering - read our article on browning meat here), seasoning with salt and pepper. Pre-heat the oven to 200 degrees while the meat is tempering. 
3. Next reduce the oven temperature to 150 degrees, cooking the Rib Roast for 45mins for each kilogram of beef. Cooking until a medium rare, with an internal temperature of 55 degrees. 
4. Pick and chop! Choose your favourite herbs and chop finely. Combine them with crushed black pepper and sea salt. Sprinkling them generously across the entire rib roast. 
5. Brown and Caramelise! Heat Oven to 230 degrees, and watch as the roast sizzle and brown. This step should take 5-10mins. Keep a close eye on the roast... we're almost there!
6. Fold a large piece of aluminium foil so it looks like a tent. Tuck the standing rib roast underneath. Allowing it to rest for at least 45mins to an hour. Take a break or make a gravy from leftover rendered fat juices on the roasting pan.
7. Carve by separating the bones from the rib roast, pressing the knife into the bones while you slice. With the bone removed, cut the roast in half (for 2rib roast), or into thirds (for 3-5rib roast). Place the meat cut side down on the chopping board, cutting the steaks into ~1cm thick pieces. Lay the sliced steaks on a platter around the rib bones and serve! 
Well Marbled
Ensured tenderness
150-200 Days Grain Finished, a predominant diet of corn
From Black Angus Cattles Raised in South Dakota
1 Rib Serves 2-3 person

Raised without the use of Antibiotics
Stays Fresh in the Chiller for at least 3 days from the date of delivery
If not consumed within 3 days, please keep in freezer
Individually vacuum packed for easy storage
Delivered via refrigerated truck
More from this collection