NEXT
PREV
Zoom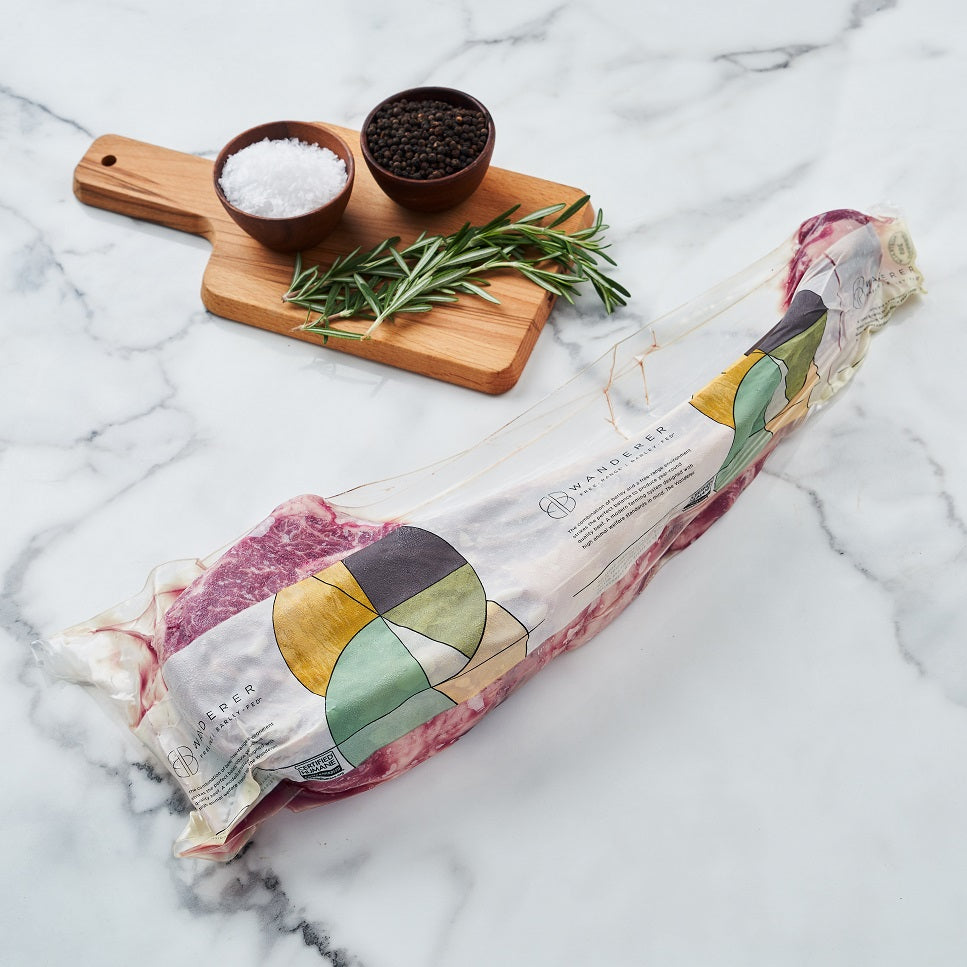 Barley Fed Free-Range Tomahawk Steak MS4+
Delivery Notice
We deliver island-wide 𝗙𝗥𝗘𝗘 𝗳𝗼𝗿 𝗮 𝗺𝗶𝗻𝗶𝗺𝘂𝗺 𝗼𝗿𝗱𝗲𝗿 𝗼𝗳 $𝟴𝟬.
For orders below $80, a delivery charge of $12 applies islandwide
What is Barley Fed Beef?

Wanderer Beef - As one of the first commercially available Free Range yet Grain Fed Beef. The unique combination of Grass, Wild Herbs, and Barley Fed regime results in high animal welfare and tender buttery notes that are signature to grain-fed beef.
Traditionally grain-fed cattle are confined to feedlots eating a diet of 100% grain. Cattle are not genetically programmed to feed on grain. The intensive grain feeding regimes could encourage illness and digestive problems in the cattle. Calling for medicinal intervention such as antibiotics. 
The unique combination of Barley Fed diet supplemented by natural pasture - creates a healthy alternative to intensive feedlot raised beef. One that is raised without antibiotics and high animal welfare. 
Barley Fed Tomahawk Steak MB4+
The Tomahawk Steak is derived from the loin set of a cattle, a suspending muscle found at the upper top section of the animal. Unlike cuts found in the thoracic and pelvic limb with abundant connective tissues. The suspended loin section is not a muscle of locomotion, resulting in a much tender piece of steak. 

Meat Co. sources all Barley Fed Beef from Victoria Australia, in the Gippsland and Lime stone Coast stretch of eastern Australia. We find this region perfect for raising a consistently high quality beef, which we hope you would enjoy.
Delivered Chilled
Well Marbled
Always Tender
A 1kg portion feeds 4 person
Raised without the use of Antibiotics
Clean Diet, Certified Never Ever Program
From Free Ranging Cattle on Pasture
Stays Fresh in the Chiller for at least 3 days from the date of delivery
If not consumed within 3 days, please keep in freezer
Individually vacuum packed for easy storage
Delivered via refrigerated truck
Doneness guide: Rare 50 celsius Medium rare 56 celsius Medium 60 celsius Medium Well 64 celsius Well done 68 celsius
More from this collection